Having a reliable form of communication is paramount to getting your commercial construction project done on a deadline. For those building throughout Bucks County, Montgomery County, Chester County, Delaware County, PA, and the Greater Philadelphia area, two-way radios can help ensure your team operates like a well-oiled machine.
At Metropolitan Communications, we're here to help construction companies and workers in these areas, as well as throughout Gloucester and Camden County, NJ, and New Castle County, DE, learn the importance of two-way radios while on the job.
Best Two-Way Radios for Construction
Construction Projects to Better Your Area
There are many types of construction throughout the Greater Philadelphia area. Whether you're on a team building new commercial properties or residential buildings, refurbishing old buildings to keep the architectural history intact, or creating a new neighborhood development from the ground up, it's important to maintain structures both new and old.
Considering that there are several workers on a team, as well as different sites across town, it's important to have reliable communication to make sure that everyone is on task and has everything they need to get the job done. There are plenty of means of communication for construction sites, but one of the best is two-way radios.
The Need for Two-Way Radios on the Jobsite
There are a lot of moving parts on a commercial construction site. Whether you're renovating or building from the ground up, there are several teams you rely on. Each team has its own unique focus while collaborating with others to achieve a common goal.
The best way to ensure that everything is running as smoothly and efficiently as possible is to use reliable devices that ensure your messages get across to the right party.
Having two-way radios on the jobsite allows you to convey direct messages in real time. You can check the status of different areas. For example, what's going on at the top of the building you're working on? Can you coordinate deliveries from across the worksite? If an urgent issue pops up, you can send the message to the right team to address it and prevent a major hiccup in your progress.
When you have two-way radios on site, you can:
Send urgent messages
Receive updates about upcoming deliveries
Coordinate teams to divert efforts to a pressing matter
Contact specific teams on different channels
When there are a lot of moving parts on the jobsite, as well as several different vehicles and heavy equipment in use, having reliable communication is necessary. This is especially important for urgent messages to notify your team about last-minute changes or diverting manpower to another site. These radios are crucial for coordinating plans to ensure that your team is operating at optimal efficiency.
If you have several different sites throughout the area, it's important to check in every once in a while to ensure everything is on schedule. If you're at the office and need to contact a team across town, a phone can work, but due to the construction sounds and distance, the call could be muddled or dropped. These radios provide clarity and easy-to-use function to make sure that you're contacting the right party without any issues.
The Types of Two-Way Radios We Offer
Motorola two-way radios are arguably the best in the business—the gold standard. Our team is certified with these radios, so you'll be in great hands. We can suggest the right radio based on the type of work your team does. There are two major models that we offer that differ in some of their style and functionality.
These radios provide basic functions with communicating on different channels. However, one of their most appealing aspects is that they're highly durable. Construction sites can be tough, especially with heavy equipment in use, demolition tools, and even heights if you're working on a tall building.
These Motorola radios are designed to thrive in hard environments and withstand impacts and submersions while retaining a strong signal. This makes sure that you can convey your messages to the right team without any worry of damage or signal loss.
Two-Way Radios for Construction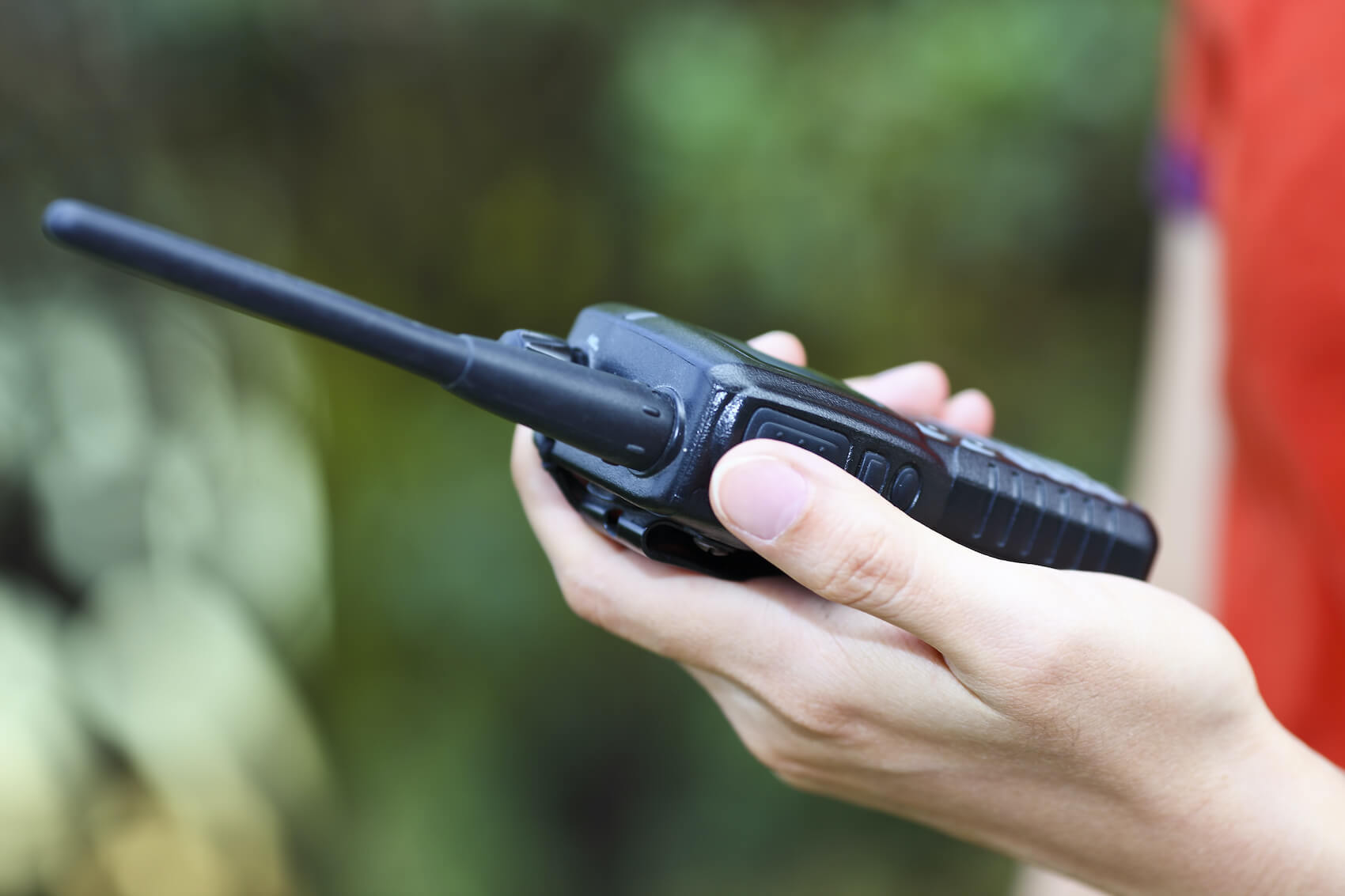 When creating the best two-way radio fleet for your construction enterprise, it's important to look for radios that can handle everything crews can: extreme temperatures, loud equipment, dusty environments, and more. Some of the best and most powerful two-way radios for construction include:
APX P25 Portable & Mobile Radios
If you're looking for a classic two-way radio that's reliable and easy to use, the APX P25 Portable & Mobile Radios are a top choice. They're highly durable and have a one-touch interface that allows you to send a message right away or to easily switch channels to contact a different team.
Durability: Features a highly durable exoskeleton.
Simple to Use: One-touch system makes sending calls easy and direct.
APX4000H P25 Portable Radios
When you're on the job with your hands full, the APX4000H P25 Portable Radios may be the right tool for you. It features a handheld receiver that makes it easy to send a message without having to unclip it from your belt. It also features a strong construction designed for the tough jobs.
Tough: Includes a durable exoskeleton that's military tested in the world's harshest environments.
Handheld Receiver: Makes it easy to send or receive calls while you're busy or you're at a high elevation during multi-story builds.
Dual-Microphone System: Eliminates background noise, so you can hear and be heard with crisp clarity.
XPR 7000e Series
These digital portable two-way radios combine smart tech features with rugged durability. They are rated Intrinsically Safe, which means they will not overheat or combust in dangerous environments. Large controls and unique function knobs make it easy to operate with gloves on and in low-visibility settings. Other impressive features include:
Man Down: An integrated accelerometer can sense if the wearer has fallen and automatically call for help.
Extended Battery Life: Construction happens around the clock. Work a three-shift schedule without interruption, thanks to a 29-hour battery life.
Improved Waterproofing: The Motorola XPR 7000e can survive submersion in water, which is great for environments like construction, where protection from the outside elements isn't always guaranteed.
Two-Way Radio Accessories
Make sure all your communications equipment is suitable for the jobsite. In addition to portable two-way radios, Metropolitan Communications also partners with Motorola Solutions to provide workplace accessories, such as:
Microphones: Ambient-sound-reducing microphones make sure that coworkers broadcast only their voices to each other, even in the midst of jackhammers, saws, and other equipment.
High-Capacity Batteries: Get longer-lasting performance in a smaller package for convenience on the jobsite.
Heavy-Duty Headsets: In addition to unparalleled noise cancellation, Motorola offers many heavy-duty headset models that are designed to fit over helmets for added safety.
Two-Way Radio Infrastructure
In-Building Signal Boosters
Many jurisdictions require newer construction to meet connectivity guidelines for public safety. In case of an emergency, first responders need to be able to rely on radio signals in all areas of a building—like stairwells, elevators, and basements.
Several regulatory agencies oversee wireless communication connectivity:
Federal Communications Commission: The FCC requires first responder radio channels be kept open and clear of traffic. Your signal-boosting system must be able to provide coverage for these bandwidths in your building.
International Fire Code: The IFC-510 requires a minimum signal strength of -95 db and 95% in-building wireless signal coverage.
National Fire Protection Association: The NFPA requires 90% in-building coverage, and critical areas like elevator lobbies, exit stairs and passageways, and fire pump rooms must have 99% coverage.
If your new construction requires this connectivity, then two-way radio infrastructure will help. Two-way radio infrastructure is often referred to as an in-building signal booster.
For extending coverage into hard-to-reach areas, the experts at Metropolitan Communications can install specialized amplifiers called Bi-Directional Amplifiers, or BDAs. With these in place, coworkers and first responders can always rely on their radios.
For enhancing overall capacity for new construction, sometimes a Distributed Antenna System, or DAS, is necessary. This system is a solution that uses outdoor antennas to capture a signal and then distribute it throughout the inside of a building. The in-building antennas that extend the reach of the captured signal are often BDAs.
Installing in-building signal boosters is easiest at the start of the construction process. The expert techs at Metropolitan Communications have the expertise required to assess your project and design a solution that works for you while keeping everything up to code.
Cell Phones vs Two-Way Radios
It's no secret that cell phones are the most common form of communications around the world. With Bluetooth® technology, it makes it easier to make and receive calls from the road. Today's phones even offer text messaging and access to the internet and email, providing several different lines of communication.
Smartphones also allow you to make payments either online or in store. There are security measures in place with face recognition and passcodes. However, if you need to get your call out immediately, these security features could prevent you from passing on the message instantly.
Two-way radios are a more reliable form of communication for the jobsite. There are no passcodes or facial recognition to prevent you from making a call instantly. There's also no security risk if you lose it, because you don't have private information stored on your radio.
Radios are also better in terms of connection, since smartphones can lose reception or be inactive in dead zones. Since two-way radios use radio waves instead of cell towers, the signal is stronger. Lastly, cell phone expenses can add up quickly for the budget-conscious business. In addition to a large upfront investment, there are also monthly contracts. Motorola two-way radios simply require a one-time investment for immediate operability.
While most people do use cell phones for communicating, when it comes to the jobsite, they may not be the best tool. They can easily break and lose connection. Motorola two-way radios are durable and designed specifically for the jobsite.
Two-Way Radio Maintenance & Service
If there's an issue with your radio, you'll want to make sure you address it and take care of it as soon as possible to prevent any team members from being out of the loop with important messages. This can be problematic for overnight crews if an issue arises and repairs or service is needed to the radio.
When you're unable to communicate to your team because of an issue with your radio, it can lead to some major issues on and off the jobsite. Whether it's not being able to get an urgent message out, contacting a specific team on the site, or even having the ability to check on the status of an incoming delivery, the need for communication on a jobsite is pressing. Should an issue occur that affects communication across you and your team, you'll need to find the solution as soon as possible.
Luckily, we offer service contracts that are available 24/7, so no matter what time of night or day of the week, you'll be able to get the necessary service to your two-way radio system. Our certified technicians will diagnose the issue and develop a course of action to make sure that your two-way radio gets the service and repairs it needs, so it can function properly and no message gets lost during your workday!
Why Partner with Our Two-Way Radio Experts?
At Metropolitan Communications, we have more than 60 years of telecommunications experience collectively. Our team is dedicated to helping you find the right systems for your business or industry in the realm of commercial construction, so your teams can function as efficiently as possible.
Our experts will even set your two-way radio systems up and walk you through their functionality and channels, so you'll become well versed with how they can work for your commercial construction site! Contact us today for a free quote!
Our team at Metropolitan Communications is here to help construction workers and companies throughout Bucks County, Chester County, Montgomery County, Delaware County, and Philadelphia, PA, so they can tackle the jobsites in their area with confidence. We're also here for the construction community in Gloucester and Camden County, NJ, and New Castle County, DE!