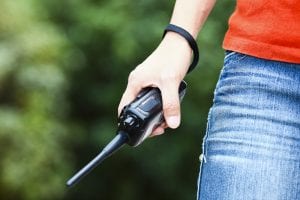 Township and municipal buildings throughout Chester County, Bucks County, Montgomery County, Delaware County, and the Philadelphia area all have plenty of staff members that are working together to make sure that the city's or township's needs are met.
There are various departments and off-site workers that are assisting with making sure that programs are functioning, budgets are spent wisely, and that the systems are in place to make sure that everything runs smoothly.
Of course, one of the major components that township building staff relies on heavily is communication, through a variety of means. If you're in need of wireless communications for your township building staff, you can look to us at Metropolitan Communications for assistance!
Two-Way Radios for Township Workers
Having a strong line of communications is crucial for township workers, especially for those who are off site conducting work around the township. Whether it's surveying a site, overseeing development, or conducting an important event, the need for direct communication for off-site workers is important.
While cell phones can be effective, the direct communication of a two-way radio is always best for those types of situations. Of course, choosing the right radio, setting up the channels, and configuring the bands can be tricky if you're not well-versed with the various radio companies and their two-way communicators.
Our team of telecommunications technicians can assist you with your radio dealer solutions. They'll carefully go over the benefits and drawbacks of each radio system, so you can clearly see which one would best suit your off-site township workers.
Once you've decided on the two-way radio system that's right for the team, our technicians will carefully set up the systems and channels so you can get to work and use them! They'll even walk your team through the basic function of the radios, so they have the right understanding and are ready to communicate!
When you're looking for radio dealer solutions, you can always look to us for help!
BDA Solutions for Township Building Staff
Some of the township buildings throughout New Castle County, DE; Camden County, NJ; and even Gloucester, NJ, are large and densely developed. This can have a negative effect on wireless communications—especially those that require strong signals to achieve contact.
In this instance, having systems like Bi-Directional Amplifiers can be a major benefit to staffers, especially if the township building is tall, has thick concrete walls, or if there are offices in the basement. Often, these types of structural components can cause issues with cell phone calls and reception, which can lead to a loss of signal, excessive static, or simply dropped calls. This can even occur with off-site workers who are conducting a call while traveling through a dead zone.
Bi-Directional Amplifiers (BDA's) simply act as signal boosters. No matter where you are in your township, these components will help keep the signal strong, so you can ensure that cell calls don't drop, the connection is clear, and above all, there's no miscommunication.
Contact us to get started on your BDA solutions!
Telecommunications for Township Building Offices
When there are numerous departments in the township building—Administration, Public Works, Parks and Recreation, Community Development, and more—it helps to establish a strong phone network for each department. On top of having numerous phone lines and extensions for the staff and supervisors, you'll want to have a few digital components to assist with record management.
Of course, these systems can be complicated to not only install, but to know the various functions and to set them up. That's why it's necessary to partner with an experienced telecommunications company that can provide solutions, installations, and insight.
Our team can assist with setting up your telecommunications system with numerous phone lines and extensions to accommodate the staff and various departments in the building. We can also assist with setting up:
Digital recording systems
Voicemails
Records management
Call-routing
Management information systems
All of these systems will not only help the staff stay connected with the different departments in the building, but with other businesses and organizations as well. It will even allow them to store important calls and records for safe-keeping that they can utilize during meetings or functions.
Having a helpful telecommunications company can make sure that you get the most out of your phone system as well as handle any issues, complications or necessary repairs so you can get back online with your communications!
24/7 Service & Maintenance
When it comes to running an entire township, communication is key. Though, should an issue occur that knocks out your communications systems or if the signals lose their strength, getting communication back up becomes critical regardless of when these issues occur.
However, it helps when you have a telecommunications technician who's available 24/7. Our team is here to help! When the systems are down or there's an issue that requires repairs, our team can arrive and provide the necessary maintenance to make sure that your telecommunications systems is up and running! We're here for you no matter the day, the week, or the hour!
Why Partner with Us?
If you're in need of BDA solutions, telecommunications systems, or radio dealer suggestions and installations, you may want to consult our team at Metropolitan Communications for your township buildings throughout Chester County, Delaware County, Bucks County, Montgomery County, or the Philadelphia area.
We have more than 60 years of experience with providing telecommunications solutions, services, and assistance throughout the area, as well as townships throughout Camden County, NJ; New Castle County, DE; and Gloucester, NJ! We're here and dedicated to helping you and your township with telecommunications services!
Are you ready to get started? Contact us at Metropolitan Communications to speak with one of our experts to outline your telecommunications plan for your township building staff!