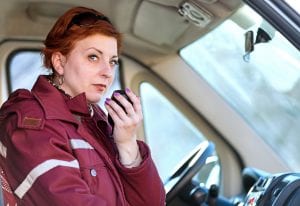 Montgomery County, or "Montco" as it's often referred to, is a sprawling county in southeastern PA that's home to more than 830,000 people. The county features up to 10 townships, several boroughs, villages, and census-designated communities.
On top of features a variety of school districts, notable hospitals, and municipalities, it includes many attractions that bring in visitors from all throughout the tristate area. Given the size of the county and the variety of businesses and industries throughout its 487 square miles, direct communication is key for some businesses and departments to operate in Montco.
If your business, industry, or department relies heavily on direct communication, you can easily find two-way radios for sale near Montgomery County, PA!
Look to us at Metropolitan Communications for help! We're here and proud to serve a variety of industries throughout Montgomery County with their communication needs. Keep reading to learn more about the two-way radio services that we offer.
Addressing the Need for Two-Way Radios in Montgomery County PA
While most of the citizens of Montco use their cell phones to communicate with friends and loved ones, the need for direct two-way radio communication is still the core for a lot of businesses and municipalities throughout the county.
While phones are reliable, calls can be missed and signals can be lost due to dense construction areas, basements in local buildings, and even dreaded "dead zones" that are still common throughout some of the valleys of the county.
When certain industries, particularly health care facilities, commercial buildings, EMS, police, and fire fighters need direct communication, two-way radios are paramount.
Two-way communication is direct, so when you need to get in touch with a team member or someone out on patrol, you'll have the ability to get in touch without the risk of losing a signal, having a dropped call, or getting sent straight to voicemail.
Types of Two-Way Radios for Sale
There are a variety of two-way radio brands out there that you can consider for your team or industry. In order to know which brand is perfectly tailored to your needs, you'll want to partner with experts who are well-versed and knowledgeable with the types of radios and two-way communicators out there.
Our team is certified with a variety of today's most reliable two-way radio brands, so you can rely on our experience and expertise. Metropolitan Communications technicians are certified with Motorola two-ways and JVC Kenwood radios, which are highly rated brands on the market given their lengthy track record of keeping workers in direct communication during routine workdays and even in emergency situations.
These particular radio brands were specially designed for industries that operate on the move and for work zones where loud noise is a factor—whether it's blaring alarms or heavy machinery. These radios feature a component called Extreme Audio Profile, which ensures that the sound on either end is top quality and easily decipherable. This feature is key for communications on particularly loud job sites with demolition or loud construction equipment.
Whether you're making delivers throughout the county or there's an emergency situation involving different departments in town, these radios will ensure that you're able to get the message across without interruption and that the connection is crystal clear.
Our Lineup of Motorola Two-Way Radios
Motorola one of the best in the two-way radio business and we carry a variety of different radios to meet the needs of our clients. We're certified Motorola carriers, so look below to check out the different models that we carry that could be the right choice for your business or industry:
APX P25 Portable & Mobile Radio: When you're seeking a classic model, the APX P25 Portable & Mobile radios are the way to go. They offer:

A durable skeleton that's resistant to impacts, submerges, and shocks.
Crisp and clear audio delivery and receiving.
A one-touch interface so you can easily send or receive calls.

APX400H P25 Portable Radios: If you're taking your radio in some rough spots or heavy-duty work is being conducted nearby, these radios can deliver. They include:

Reinforced exoskeleton that's been military tested in the world's harshest conditions.
Handheld receiver for easy access without having to unclip it from your belt.
Features a dual-microphone system that helps cancel out loud background noise so you can hear and be heard with the utmost clarity.

APX Siren & Lights Interface Module (SLIM): If you're in emergency services, then the APX Siren & Lights Interface Module is vital. When it's installed in your vehicle, it helps you activate your siren and lights as well as convey emergency messages to crowds and fellow emergency responders.

Reduces driver distraction with an easy-to-use one-touch interface to activate the lights and siren.
Features an on-board PA system that can be used to address crowds forming at the scene, as well as relay information to fellow emergency workers.
It's no secret that cell phones are the most common way that people communicate today. They offer a lot of convenience with the ability to send or receive text messages and pictures, access the internet and email, and even online shop.
Even so, cell phones may not be the best pick for every industry. These phones can be stolen or copied, which leaves your information at risk. They have security measures in place, but those can backfire in an emergency situation when you need to contact people immediately. Also, they're prone to lose signal when you're in dead zones.
Two-way radios, on the other hand, offer reliable, steady, uncomplicated communication. The signal is always strong despite a lack of cell towers. Two-way radios also don't contain your information, so there's no risk. These communicators are more cost efficient and don't require monthly contracts to use them.
Two-Way Radios for Every Industry
Two-way radios can be used for a variety of industries and businesses. They offer reliable connections. They're also durable, so if you work in construction, demolition, or emergency services, they're up for the task and will ensure that your message gets across. These radios are ideal for a variety of industries, including:
Delivery services
Security & Surveillance
And more!
Two-Way Radio Service & Maintenance in Montco
The Metropolitan Communications team is here to help you design your communication system, so it will work right for you and your business or emergency needs. We'll not only help you set up the right signals and channels, but we'll also be here to assist you with any issue you may encounter with your Motorola two-way radios or JVC Kenwood communicators.
Since our technicians are certified and experienced with these two-way radios, they'll be able to inspect your communicators and system to be able to detect the issue that's causing problems with achieving the signal or coming through clear.
Another factor that's crucial, especially for emergency services, is the need for maintenance during off-hours. Since there are no rest for emergency medical services, fire and police departments, or hospitals, it can be problematic if an issue occurs with your radios in the middle of the night.
Luckily, our maintenance contracts are here for your radio needs with 24/7 maintenance. So, whether there's issues involving signals, a malfunction, or general issues that occur on the weekend or even during a holiday, you can rest easy knowing that that we can connect you with a telecommunications technician or specialist to help you correct the issue so you can resume business.
Why Partner with Metropolitan Communications?
If your business, industry, or department is in need of radio services or you're simply looking for two-way radios for sale near Montgomery County, PA, our team is here to help you along the way. Collectively, we have more than 60 years of telecommunications experience with a special focus on two-way radios—so you know that you're in great hands with our team of technicians.
On top of having over half a century of experience, a vast knowledge of two-way radio systems and being certified with today's most reliable brands, we're here for you every step of the way. From installation to conducting repairs and maintenance, we'll work with you to ensure that your radio system is operational and fully functional.
Get Started on Finding Two-Way Radios for Sale near Montgomery County PA
Communication is key for a variety of industries and departments that are serving residents and other businesses all throughout Montgomery County. Are you ready to figure out the right two-way radio systems that are applicable to your industry or department? You can get started today with the help of our dedicated team! They'll help you pick out the radios that are right for your business and walk you through the functions and directions so you can get the messages across in no time!
Ensure communications for your Montco business are direct and stress-free—contact us at Metropolitan Communications for your quote today!