Bucks County is a sprawling community in the Greater Philadelphia area that's home to more than 600,000 people. Through the various villages, townships, boroughs, and cities, there are plenty of industries that require staff to communicate directly.
In a county that covers 622 square miles, reliable two-way radios are crucial. Luckily, you don't have to scour the county to find two-way radios for sale near Bucks County, PA. All you have to do is look to Metropolitan Communications.
We're here to help you with your communication needs. When it's time to determine your two-way radio solution in your search for a "two-way radio near me," we'll be here to ensure that you have the right tools for the job.
The Benefit of Having Two-Way Radios in Bucks County
Although smartphones have become the go-to form of communication these days, the need for two-way radios has never been greater.
While cell phones may fail in dead zones or through various construction sites or buildings that lack the proper signal, two-way radio systems prevail with direct, clear communication. This kind of back-and-forth interaction is crucial for a variety of industries, especially for firefighters, EMS workers, and police officers.
Since communication is crucial, these systems will ensure that you're always in contact and the signal is strong. Whether it's at a jobsite, from the basement of an old building, or at the scene of an emergency, two-way radios ensure that the right information comes through, so everyone can coordinate to accomplish the task at hand.
What Type of Two-Way Radio Should I Get?
There are a variety of two-way radios out there to consider for your industry. However, the best way to make the right decision is to partner with a radio expert certified in numerous two-way radio brands.
Our team is certified with Motorola two-way radios and JVC Kenwood, among other brands. We're well-versed with setting up these systems for you and your business, industry, or department. These portable radio systems have a lot of capabilities, so whatever your needs, we'll determine the right system for your operations.
These radio systems were designed for on-the-go industries. Whether you're on routes making deliveries, you need to radio in for backup, or you're touching base with HQ to keep up with incoming orders, two-way radios provide direct contact at a moment's notice.
We have a wide selection of two-way models designed for specific industries. They each offer different capabilities and technology systems, so there's a wide selection to choose from. We also offer the perfect radio solutions for loud work environments, like construction sites and hospitals.
Ambient noise-canceling technology ensures you can hear communications clearly despite loud equipment, back-up beeping, or even noisy demolition services. You'll be able to reach workers on jobsites within Bucks County and schedule deliveries or equipment drops to ensure that your workload is running smoothly and efficiently.
Serving Your Industry's Two-Way Needs
Two-way radio systems can be utilized in a variety of businesses where communication is key to everything running smoothly and efficiently. Whether it's a message meant for a specific department or an organization-wide announcement, these systems can assist you with your day-to-day operations.
These two-way radio systems are perfect for Bucks County communications. They benefit almost any industry, including:
Commercial Construction
Delivery and Dispatch
Education
Manufacturing and Retail
Each of these fields relies on instant communications for safety and productivity. Keep reading to learn more about how different two-way radios can serve these sectors.
P25 Radios for Public Safety: Fire, Police, and EMTs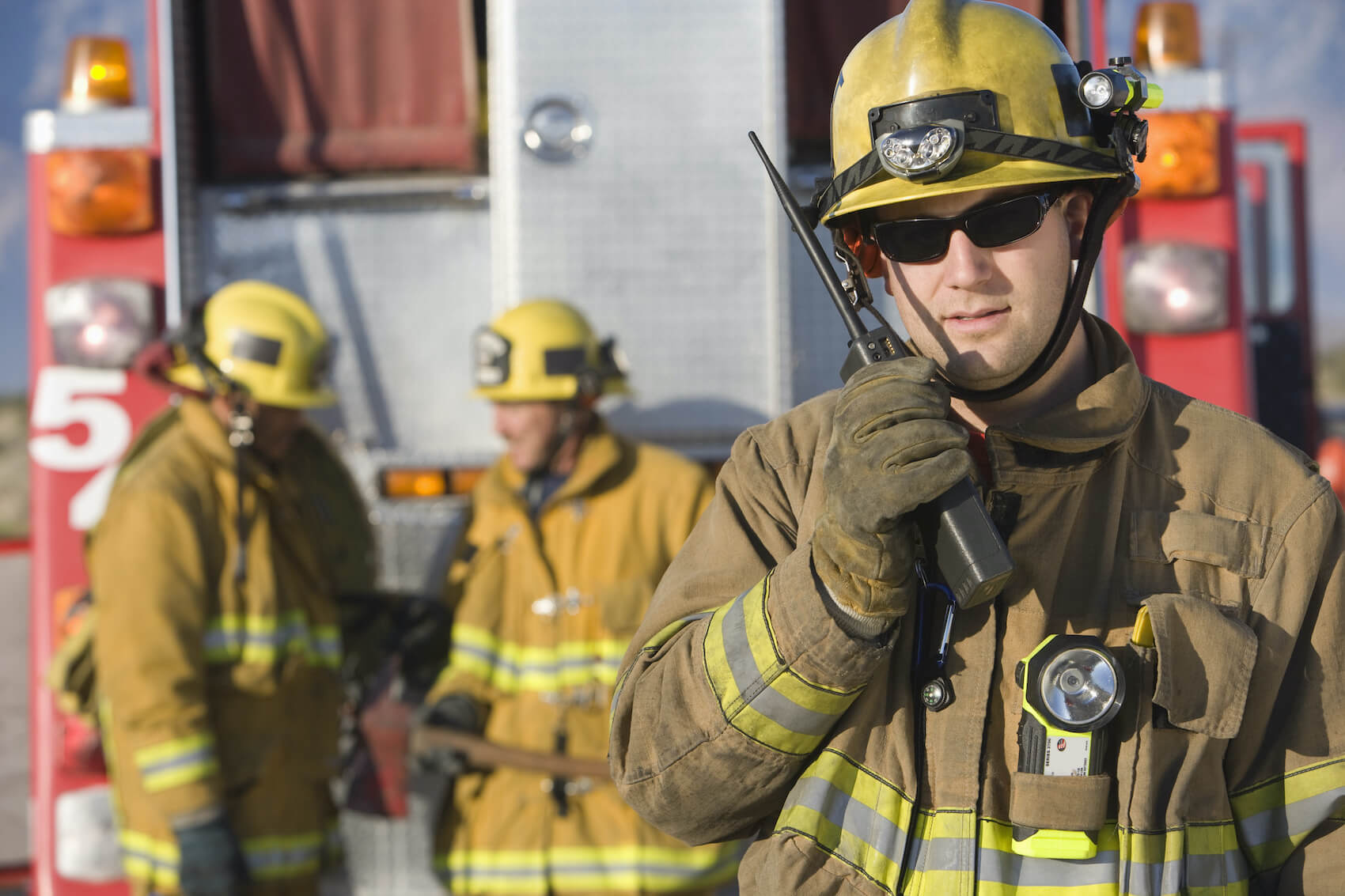 In emergency situations, direct communication is crucial to ensure that calls are addressed, and the emergency services are coordinated and efficient. We often recommend P25, or Project 25, radios for first responders.
P25, or Project 25, is a radio classification that designates interoperability with other P25 digital two-way radios. This classification was designed for and by public safety professionals in North America.
P25 radios offer:
Analog and digital operability
Data and voice transfer
Message encryption
Public safety organizations are often organized at the local level, and as such, often have their own radio systems, channels, and capabilities. However, in instances when an emergency event affects a large area, like a hurricane hitting the East Coast, disparate communications systems make it harder to coordinate a larger-scale response.
When local jurisdictions work with P25 radios, they can communicate with public safety personnel from other areas. This streamlined response on a large scale saves lives.
For Public Safety Professionals
For public safety professionals, we often recommend the Kenwood NX-5000 Series. This triple-digital radio supports NXDN, DMR, and P25 communications, all in addition to its analog FM capability, making it possible to connect with more users than ever before. Don't worry about what settings to use, however. This radio automatically sends messages in the mode it was received.
For Bucks County Firefighters
For a Bucks County fire radio, the Motorola APX NEXT XE All-Band P25 Smart Radio is another excellent choice. This two-way radio was designed with the help of firefighters, so you know it is up to the challenge. Its heat-resistant construction can survive the same conditions firefighters face.
Use its touchscreen to access messages, location tracking, and more—but don't worry, users can keep their gloves on. The rugged touchscreen is operable with PPE and in all lighting conditions.
Commercial Construction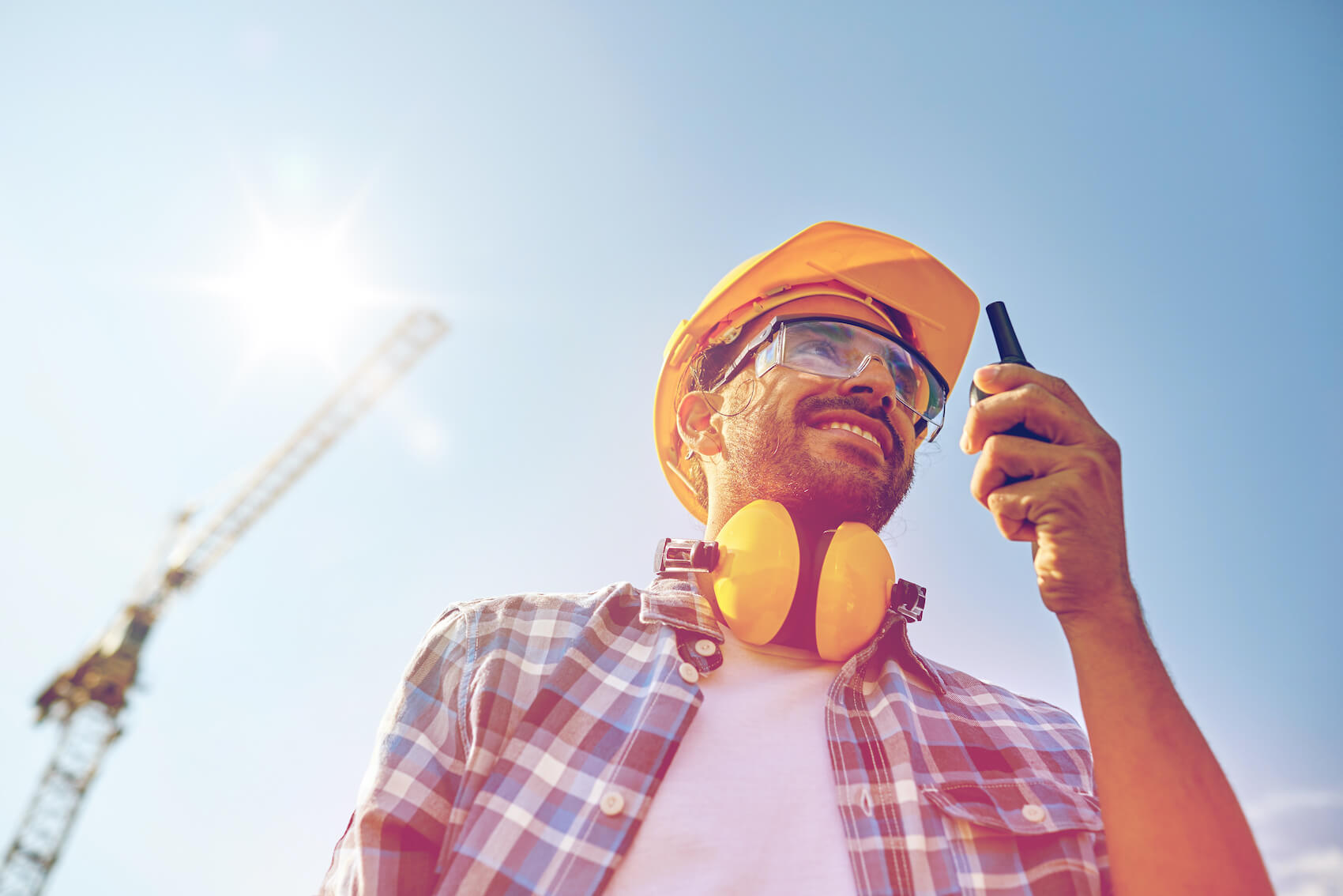 Whether it's coordinating delivery of materials or equipment, checking in with the team on a different jobsite, or simply checking the status of an ongoing project, two-way radios are vital.
One of the best two-way radios for commercial construction is the MOTOTRBO™ Ion Rugged Commercial Smart Radio. It provides the classic capabilities of a two-way radio, along with integrated LTE and a rugged touchscreen that lets users access Android apps.
Built for any environment, this handheld is completely dust-tight and can survive drops and immersion in water. It's also the only commercial touchscreen smart radio that's rated Intrinsically Safe—so there's no risk of fire or ignition in dangerous environments.
Delivery/Dispatch
If an order or destination changes, an urgent package arrives, or you're reaching out to a driver on the road, these radios can help ensure that everything runs smoothly and on time.
Install the Motorola XPR 5000e mobile two-way radio into your delivery fleet to keep drivers and dispatchers connected. 32 UHF/UVH channels work in conjunction with integrated Wi-Fi and Work Order Ticketing for guaranteed communications.
Improve the drive with safe accessories, like Bluetooth® earbuds, visor-clip microphones, and a long-range wireless microphone for drivers who have to work outside their vehicle.
Healthcare Services
Whether it's an emergency occurring somewhere in the facility or an incoming patient who needs immediate medical attention, two-way radios can help you convey the message.
Streamline patient care by equipping your medical staff with radios from the Motorola XPR 7000e line. For everyone who has to work doubles, they have peace of mind, knowing its battery lasts up to 29 hours. It also provides indoor location tracking and the Man Down feature. The Man Down feature works through the radio's integrated accelerometer; if it senses that the wearer has fallen, it can automatically send a call for help.
Education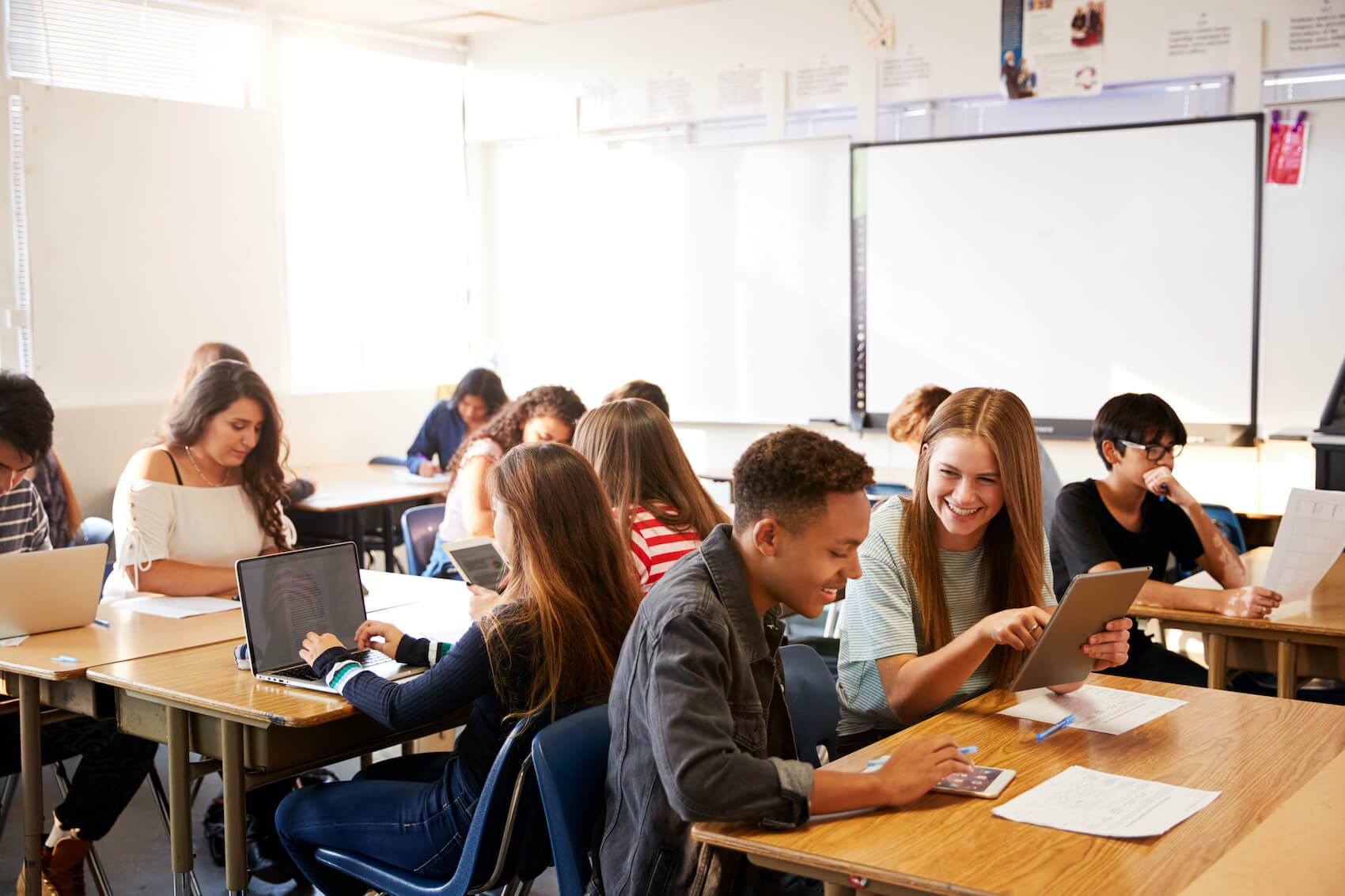 Educational administrators wear many hats: They're managers, leaders, educators, and coordinators, responsible for the success and wellbeing of students, teachers, and staff; they also help with bus scheduling and dispatch.
For those who work in the demanding field of education, we often recommend the Kenwood NX-1300. A built-in noise suppressor makes sure that the background noise of a crowded cafeteria doesn't overpower your message.
School budgets are always top of mind; luckily, the NX-1300 is interoperable with two-way radios that work on the same frequencies, even if they're different brands. They also work on NXDN or DMR digital protocols. As a school's needs change, this multi-function radio can fit seamlessly into an existing fleet and be integrated with other radios in the future.
Manufacturing & Retail
If you need to check up on production, assist a customer, or get an update about the inventory, you can use two-way radios to get the job done.
Simple and efficient, the Motorola CP200d™ provides ease-of-use and flexibility to streamline operations. Choose from an analog-only version or an analog/digital version. If you aren't sure which could work better for your needs, it's easy to start with analog and then upgrade if necessary.
Surveillance/Security
Security teams need to utilize two-way radio systems. Whether it's when performing a routine check of the perimeter, addressing an issue, or coordinating a search, two-way radios can make sure that you get the job done efficiently.
The Motorola SL 7000e Series has everything that surveillance personnel could want: a sleek, pocket-sized design for discreet carrying, an integrated accelerometer to power a Man Down feature, indoor location tracking, high-quality audio in loud environments, and Work Order Ticketing for prioritizing tasks.
Your Industry Can Benefit from Two-Way Radios
As you can see, communication is integral for conveying messages and moving teams toward common goals, regardless of the industry. Our two-way radio systems are durable, reliable, and effective at ensuring that your message gets delivered and comes across clearly.
Two-Way Radios vs Cell Phones
While cell phones are increasingly the most common form of communication, when it comes to your business, it may not be the most reliable.
| | | |
| --- | --- | --- |
| | Two-Way Radios | Cell Phones |
| Durable Construction | Yes | No |
| Costly Monthly Contracts | No | Yes |
| Built-in Safety Features | Yes | No |
| One-Touch Talk for Individuals or Groups | Yes | No |
Two-way radios and walkie talkies have what you need to get the job done right every time. Smartphones are an integral part of everyday life, but their fragility and costs make them better suited to life outside the jobsite.
Two-Way Radio Service & Maintenance
There's no greater hiccup in the workday than a drop in communication. It can cause a major halt in production, projected completion dates, and deliveries—or worse. Depending on your industry, communication breakdowns can lead to life-threatening situations.
Fortunately, when you partner with a two-way radio dealer that offers radio solutions, you can always remain in contact with your team.
Once you have a two-way radio system in place, we're still here for you. We offer 24/7 service and maintenance because our clients work in diverse industries that rely on communications at all hours.
We can connect you with a telecommunication technician or specialist to assist you through correcting the issue, provide repairs and service, and get your communications back up and running.
We'll make sure that your two-way radios are always functioning properly, so you can continue serving the community and providing services to the residents of Bucks County. Your communication needs are our highest priority, so we'll work with you so you can continue your duties and business throughout the county.
Why Partner with Metropolitan Communications for Your Bucks County Radios?
When you work with us, we will create custom solutions for you, install any necessary equipment, and keep your systems up and running. In other words, we're you're one-stop shop for two-way radios, repairs, maintenance, and more!
As a two-way radio dealer near Bucks County, we're proud to assist a wide variety of industries throughout the county with their communications solutions. Our team has more than 60 years of experience with two-way radio solutions, telecommunications, and additional radio infrastructure, like in-building Bi-Directional Amplifiers that can boost your radio signals.
We're committed to helping all industries and enterprises throughout the Bucks County area with their radio solution systems. Are you interested in updating your radio systems and looking toward Motorola or JVC Kenwood as your go-to brands? We can assist you with reviewing the models and options that fit best for your needs.
Get Started on Setting Up Your Two-Way Radio Systems near Bucks County PA
When it's time to get serious about installing your radio systems, and you're in need of an expert to point you in the right direction, we're here to help. No matter your industry or business in Bucks County, Metropolitan Communications is here to provide you with your customized communications solution.
Contact us to request a quote or to get started on your two-way radio experience today!